The Biology, Management, and Control of
Wild Pigs
A Symposium
for
Land and Resource Managers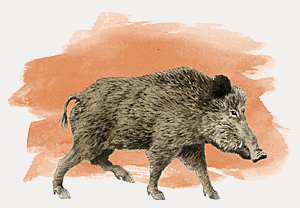 "Know thy enemy"
April 21-22, 2004
Ramada Plaza Hotel
640 Broad Street
Downtown, Augusta, Georgia
706-722-5541
Sponsored by:
USDA Forest Service, Savannah River
US Department of Energy, Savannah River Operations
Westinghouse Savannah River Company
SC Chapter Soil & Water Conservation Society
INTRODUCTION
Between 1990 and 2003, populations of introduced wild pigs (Sus scrofa) in the U.S. went from being found in 19 to 32 states. This increase, in part natural, but largely manmade, has caused increased workloads and costs for land and resource managers. Costs are the direct result of the damage done by these introduced animals. Such costs run in the hundreds of millions of dollars annually in the U.S. There are rare exceptions where the expansion of wild pigs is welcome.
Not only do they cause damage, but wild pigs are also survivors. They reproduce at a rate faster than any other mammal of comparable size, native or introduced; they can eat just about anything; and, they can live just about anywhere. Also, wild pigs are very difficult to control and almost impossible to eradicate.
In many ways, wild pigs are America's most successful invasive species. Wild pigs are a veritable nightmare for land and resource managers to keep under control. The more that one knows about an invasive species, the easier it is to deal with, and hopefully, control. For wild pigs then, it is better to "know thy enemy" than to not, especially if you expect to be able to control them.
WILD PIG SYMPOSIUM
In an effort to better "know thy enemy", this two-day symposium will address various aspects of the biology of wild pigs, and then discuss management and control of this invasive species. This symposium should be of interest to biologists, landowners, resource managers, natural resource agencies, and others interested in learning more about controlling this invasive species.
SYMPOSIUM OVERVIEW
The registration desk for the symposium will be located just off the hotel lobby. It will be open: Wednesday, April 21, 0800 to 1600 and Thursday, April 22, 0800 to 1300.
All sessions will take place within the Grove Rooms of the Ramada Plaza Hotel and Conference Center.
Wednesday, April 21, 0830-1630
Session 1: Biology and Ecology of Wild Pigs
Lunch: Buffet (included with registration)
Session 1: Biology and Ecology of Wild Pigs, continued
Evening Social: Self Hosted (one complementary "hotel choice" drink to the first 100 registrants)
Thursday, April 22, 0830-1600
Session 2: Management and Control of Wild Pigs
Lunch: On Your Own
Session 3: Wild Pig Management Case Studies
SYMPOSIUM PROCEEDINGS
Proceedings will be published and distributed to meeting attendees at a later date. The cost of proceedings is included in the registration fee.
REGISTRATION
South Carolina Chapter Soil and Water Conservation Society will be handling registration. Completed registration forms and registration payment need to be mailed to the Society: SC SWCS, c/o Hugh Caldwell, 400 Mill Creek Road, Lexington, SC 29072
Registration forms can be obtained by accessing the symposium web site:
http://swcs.tripod.com/pigregist.html
or by requesting registration forms by contacting us at (803) 725- 0246.
Registration fee structure is as follows:
Early…………………$90.00 Student .........$60.00
Regular………………$115.00 Student .........$90.00
Early registration ends on April 6, 2004.
A fee of $35.00 will be deducted from all refunds.
Pre-registered attendees can pick up their registration packets at the symposium registration desk located just off the lobby area of the Ramada Plaza Hotel.
LODGING
A block of rooms has been secured at the Ramada Plaza Hotel and Conference Center in downtown Augusta, Georgia. A special rate of $55 plus taxes is available for those attending the wild pig symposium. Reservations must be made by April 6, 2004 to receive these group rates. To make reservations call 706-722-5541.
The Ramada Plaza is located at 640 Broad Street in downtown Augusta in the heart of the historic area and one block from the Savannah River. Downtown offers the riverwalk, museums; Fort Discovery, and numerous shops and restaurants.
For more information see: http://www.metrospirit.com, http://www.augustausa.com, http://www.augusta.com, http://www.downtownaugusta.com
TRANSPORTATION
Augusta is serviced by air service through the Augusta Regional Airport at Bush Field. If you are arriving by air, the only transportation to downtown is either taxi or rental car. Alternative airports: Atlanta International Airport 155 miles west and Columbia Metropolitan Airport 75 miles east of Augusta.
DRIVING DIRECTIONS
Directions can be found at http://www.mapquest.com and/or http://www.ramada.com
Self-serve parking available at the Ramada Plaza is complementary.
PROFESSIONAL DEVELOPMENT
This symposium is being submitted to The Wildlife Society for up to 12 Professional Development Contact Hours (Category I).

The United States Department of Agriculture (USDA) prohibits discrimination in its programs on the basis of race, color, national origin, sex, religion, age, disability, political beliefs and marital or familial status. (Not all prohibited bases apply to all programs.) Persons with disabilities who require alternative means of communication of program information (Braille, large print, audiotape, etc.) should contact the USDA Office of Communications at (202) 720-2791.
To file a complaint, write the Secretary of Agriculture, U.S. Department of Agriculture, Washington, DC 20250, or call (202) 720-7327 (voice) or (202) 720-1127 (TDD). USDA is an equal employment opportunity employer.