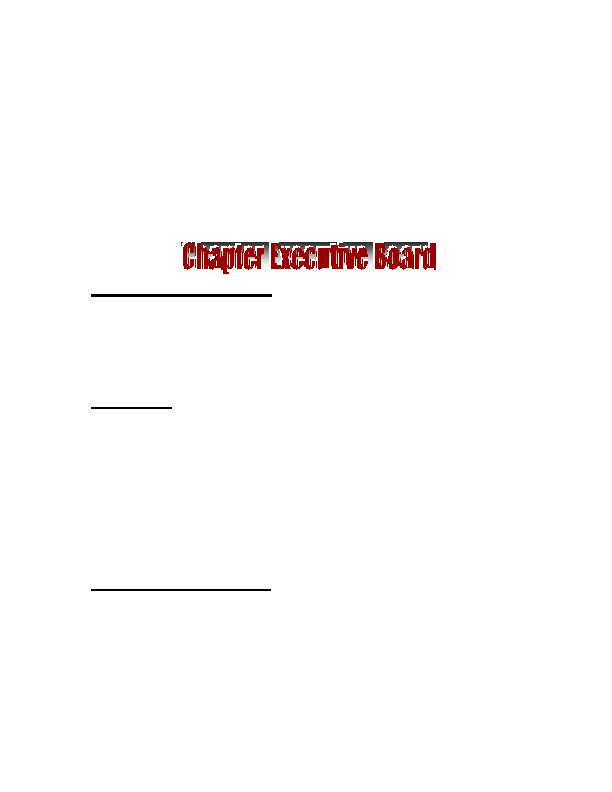 *Notify chapter members of nominating procedures and ask for nominee 
recommendations for chapter officers via newsletter, e mail, or mail. 
Duties of the Immediate Past President
*Serves as advisor to Chapter President.  
*Serves as Chairperson of the Nominating Committee and ensures the process is 
complete per Chapter bylaws.  
*Assist with membership development and mentoring to Chapter members.  
*Chair special committees or perform other assignments as the President and 
Executive Board may prescribe.  
*Serve as liaison to Education Committee.
Executive Board Membership
*The Executive Board shall consist of nine (9) voting members who have been duly 
elected or appointed per Chapter bylaws: the President, President Elect, Vice 
President, Secretary/Treasurer, Immediate Past President, and board members 
representing each Chapter Area (4 areas).  A quorum of 5 voting members must be 
present. 
Term Length
*Vice President is elected annually and will automatically become President Elect 
when President Elect's term ends.  
*President Elect shall automatically become President when President's term ends.  
*President shall serve for one (1) year and will automatically become the Immediate 
Past President.  
*Immediate Past President shall serve for one year.  
*Each Area Board Member is elected for a two year term, with terms staggered so 
that two Board Members are elected each year.  
*Vacancies occurring between elections shall be filled by Executive Board 
appointment until the next regular election.  
Duties of the Executive Board
*Manage the affairs of the Chapter.  
*Denote who is authorized to sign Chapter checks.  
*Ensure the Chapter accounts are audited annually after December 31 by the 
Auditing Committee and provide audit report at the Annual Winter or Summer 
Meeting, depending on audit completion date.  
*Recommend task forces or individuals to help accomplish Chapter business, if 
deemed appropriate. 
*Authorize compensation to Chapter officers or Executive Board members for 
reasonable out of pocket expenses incurred in performance of their duties, if 
deemed appropriate.  
6